>
>
>

2022 – Dial M For Murder
Production of 2022 – Dial M For Murder
Production description
Dial M for Murder is a classic suspense thriller set in an affluent part of London in the 1950's. The play takes place in a ground floor apartment and revolves around a couple of socialites. Tony Wendice is a retired professional tennis player. His wife Sheila, is the heiress to her family's fortune. Together, they are the perfect couple or so it would seem. Starved of affection, Sheila is driven into the arms of another man, an American crime writer by the name of Max Halliday.
Torn between two men, Sheila must decide to either listen to her head or follow her heart but before she makes up her mind, things take a turn for the worst and she finds herself thrown into a web of lies, deceit, bribery, blackmail and, of course… murder.
The original stage play was written in 1952 by Fredrick Knott for a BBC Television production. In 1954 it was made into a 3D film by Alfred Hitchcock for Warner Brother Studios, starring Ray Milland and Grace Kelly. In 1981 it was remade into a Television movie, starring Christopher Plummer and Angie Dickinson and in 1988 relaunched as 'A Perfect Murder' starring Michael Douglas and Gwyneth Paltrow.

Belvoir Players were proud to bring to the stage, this classic crime suspense thriller with a superb cast, wonderful set and great attention to detail.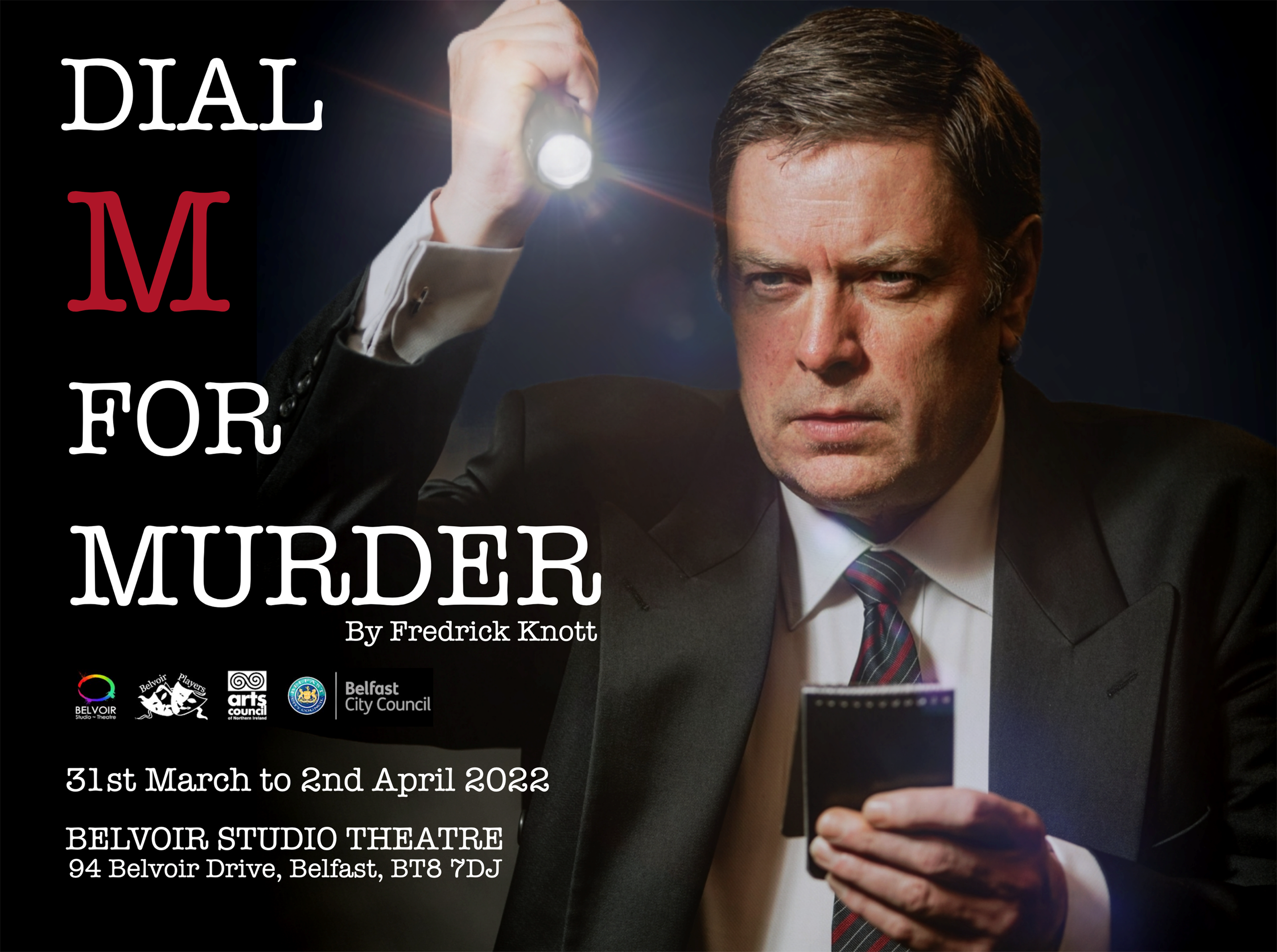 Program notes
Program Notes
The play was directed by Chris Curry. Chris who played Tony Wendice joined Belvoir Players in 1989. He has a BA Hons Degree in Theatre Studies and has performed with the Royal Shakespeare Company.

Claire Ashe who played Sheila Wendice joined Belvoir Players in 2017. She has an honours degree in Drama and English and in 2019 played Blanche Dubois in 'A Streetcar Named Desire.'

Ciaran Moore joined Belvoir Players in 2021 for his debut performance as American crime writer, Max Halliday which he played with great ease.

Clive Roberts joined Belvoir players in 2021. Clive is an ex-RAF jet pilot and was a perfect fit to play ex-military man, Captain Lesgate, an unscrupulous yet charming scoundrel.

Roger Dane who plays Inspector Hubbard, joined Belvoir Players in 2003 and has acted in numerous plays and directed several award-winning productions. In addition to treading the boards, Roger is the theatre manager at Belvoir Studio Theatre.

Frederick Knott (28 Aug 1916 – 17 Dec 2002) was an English playwright and screenwriter known for his complex crime-related plots. Coming from a line of wealthy Lancashire mill-owners, Fredrick attended Oxford, Cambridge and was an exceptional tennis player. Unfortunately, due to the outbreak of the 2nd World War he was prevented from competing at Wimbledon. He served in the British Army, rising to the rank of Major. After leaving the Army he moved to America.