You do such wonderful work here, the children are so talented - A Regular Pattron, Dunmurry
A Night in the Spotlight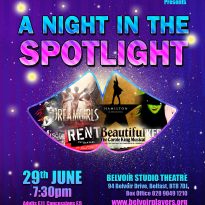 Belvoir Players Academy's annual concert showcasing some of the best musical talent in Northern Ireland. Come and show your support for these young stars as they perform some of the best musical hits from shows like Hamilton, Wicked and more.
Performances: 29th June
Spring Awakening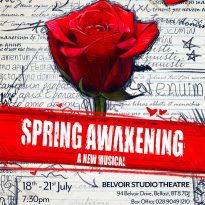 Belvoir Players bring you the premier of the Award winning musical Spring Awakening. The winner of eight Tony Awards, including Best Musical, told by Duncan Sheik and Steven Sater through what Entertainment Weekly called, "the most gorgeous Broadway score this decade," Spring Awakening explores the journey from adolescence to adulthood with a poignancy and passion that is illuminating and unforgettable. The landmark musical is an electrifying fusion of morality, sexuality and rock and roll that is exhilarating audiences across the nation like no other musical in years. You must be over 16 to see this production
Performances: 18th - 21st July
The Addams Family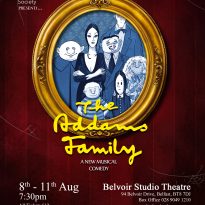 Wednesday Addams, that little ball of malace has grown up and is in love. She plans to marry, but her mother must not find out on pleasure of torture and eventually death. Will this rip the family apart? A Girl, a boy... a ring!
Performances: 8th - 11th Aug
Legendary Clubsound
Following up from their sold out tour of "The Rock N Roll years" Clubsound return to Belvoir Studio Theatre to give you another night of first class entertainment. Clubsound are celebrating 48yrs of performing together and will be performing some of their classic songs as well as some memorable songs from the 60's and 70's.
Performances: 25th Aug
Goldilocks and the three bears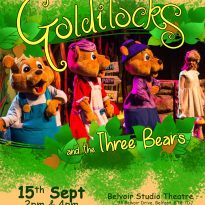 Goldilocks, the Three Bears and Ruff the Dog perform live in this exciting and fun filled musical production which takes a few twists and turns along the way with other new puppet characters and hopefully a happy ever after. Kids will learn that music can be found everywhere as they sing and dance to all their favourite songs. Throughout the show there are interactive moments that children and parents alike can enjoy.
Performances: 15th Sept
Sink or Slim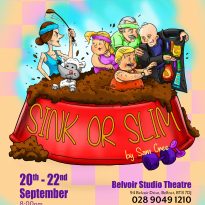 SINK OR SLIM....a classic Sam Cree comedy set in the 1960"s in a Health Farm run by the owner Mrs Babbington. She is a formidable lady who rules with a rod of iron and who feeds her pet poodle better than her paying guests! We meet the Major, Millie the dippy maid, Willie the handyman who supplies guests with whatever contraband they are willing to pay for and a Swedish Masseuse called Hildie who's determined to help everyone lose weight and get fit! A merry go round of crazy craic and lots of laughs.......one not to miss!!!
Performances: 20th - 22nd Sept