You do such wonderful work here, the children are so talented - A Regular Patron, Dunmurry
Sweet Charity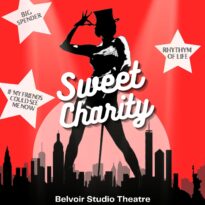 Fortwilliam Musical Society return to the stage to bring you "Sweet Charity", one of the most famous shows by the legendary Bob Fosse and the incomparable Neil Simon. Sweet Charity follows the romantic trials and tribulations of Charity Hope Valentine, "a girl who wanted to be loved". A hopeless romantic and the eternal optimist, Charity meets Oscar, a neurotic and shy man. Will she finally find true love at last? Featuring well known songs such as "Big Spender", "Rhythm of Life" and "If they could see me now" this is a spectacular night of fun and laughter not to be missed.
Performances: 20th May - 21st May
Broadway Baby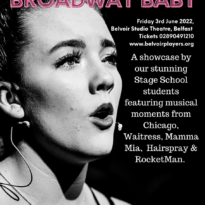 Every year the Northern Ireland School of Music and Theatre produce a showcase of their amazingly talented young Stage School students. In 2022 they are bringing this showcase to the Belvoir Studio Theatre as Broadway Baby and featuring musical moments from Chicago, Mamma Mia, Hairspray, Rocket Man, Waitress and many others. Directed & Produced by Louise Herron this promises to be a great night out for all the family.
Performances: 3rd June
Roald Dahl's Matilda the Musical Jr.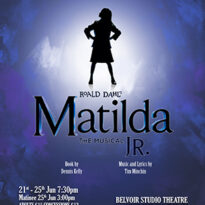 Rebellion is nigh in Matilda JR., a gleefully witty ode to the the anarchy of childhood and the power of imagination! This story of a girl who dreams of a better life and the children she inspires will have audiences rooting for the "revolting children" who are out to teach the grown-ups a lesson.
Performances: 21st - 25th June 2022
Bonnie & Clyde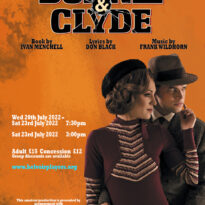 Bonnie & Clyde, America's most notorious lovers and bank robbers, take the country by storm in this sexy and compelling musical adventure brought to you by Belvoir Players Theatre Academy. Bonnie & Clyde is a thrilling and sexy musical with a non-traditional score, combining blues, gospel and rockabilly music. It may be unsuitable for children under 15 years of age. This amateur production is presented by arrangement with Music Theatre International All authorised performance materials are also supplied by MTI www.mtishows.co.uk
Performances: 20th - 23rd July
Fleetwood Dreams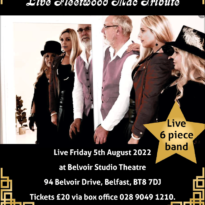 Fleetwood Dreams are a six-piece band of professional musicians who are mad about Fleetwood Mac! They are bringing their brilliant live show to Belvoir Studio Theatre on Friday 5th August 2022 as an intimate cabaret event to which you can Bring Your Own Bottle. #christinemcviebypatricialouise #stevienicksbydonna #lindseybykevin #macbybill #johnmcviebygary #vocalskeysbymic
Performances: 5th August
Married Bliss by Sam Cree
Lambeg Players present the Sam Cree comedy Married Bliss. Set in the sixties, the action of the play takes place in the annex building to the farmhouse of Andrew Calvin Knox who is a Ballymena man with a tendency towards 'prudency with money'. His daughter Mary Rose is a tad 'agricultural' so her romantic life is somewhat under-developed! Belfast couple Ernie and Grace Ramsey visit the Knox establishment and are subjected to Andrew Calvin Knox's characteristic parsimony with hilarious results. Full of the classic Sam Cree tensions, humour and surprises.
Performances: 19th & 20th August
Death by Fatal Murder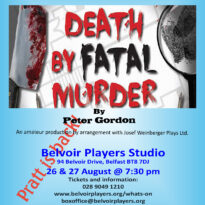 Theatre 3 presents Death by Fatal Murder by Peter Gordon. Pratt is back! Inspector Pratt's record of crime detection at Bagshot House is not enviable. In his two previous visits, the body count mounted disastrously as he looked on, helpless and hopeless! Now he is back and, as usual, chaos reigns supreme. BUT WHO GETS KILLED & WHO DUNNIT? An amateur production by arrangement with Josef Weinberger Plays Ltd.
Performances: 26th - 27th August
Widows' Paradise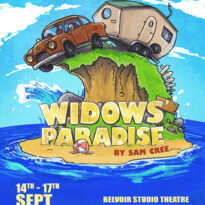 Widows' Paradise takes place in a 'luxury' caravan, with five ladies embarking on a 'strictly women only' holiday in the tranquil Donegal countryside. The holiday is thrown into disarray with a case of 'mistaken caravan identity' and the arrival of no-nonsense, alpha-male Harry and four other men. So what was supposed to be a scene of peace and restfulness turns into a riotous clash of the sexes, each with their own story to tell... Widows' Paradise is 'action-packed' and guaranteed to have you on the edge of your seat and in tears of laughter until the final curtain call.
Performances: 14th - 17th September