You do such wonderful work here, the children are so talented - A Regular Pattron, Dunmurry
Beauty and the Beast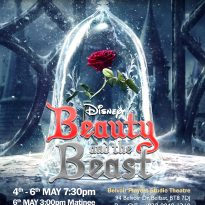 NISMAT Theatre School Bring you the enchanting classic story of Beauty and the Beast Long ago a young prince, spoiled and unkind is cursed for his wickedness by a beautiful enchantress. He is transformed into a hideous monster and his castle becomes a dark and frightening place. Here he must remain until he learns to love another and earn their love in return before the last petal of a magic rose falls. The Beast locked himself away and had given up all hope of breaking the spell... for who could ever learn to love a Beast
Performances: 4th - 6th May
Blood Brothers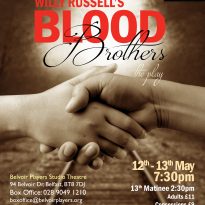 Belfast College of Acting & Total Talent Productions present Willy Russell's Blood Brothers. Blood Brothers tells the tale of twin brothers separated at birth and the effect of living on two sides of the class divide. A piece of theatre that is fast-moving, perceptive and ultimately tragic.
Performances: 12th - 13th May
Guys and Dolls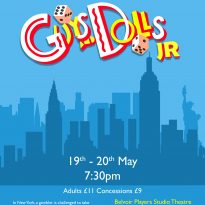 Ulster Operatic Youth presents Guys and Dolls. In New York, a gambler is challenged to take a cold female missionary to Havana, but they fall for each other, and the bet has a hidden motive to finance a crap game.
Performances: 19th - 20th May
Widow's Paradise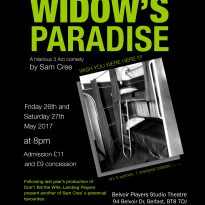 Following last year's production of Don't Tell the Wife, Lambeg Players presents another of Sam Cree's perennial favourites.
Performances: 26th - 27th May
Performances: 28th May
Madagascar the Musical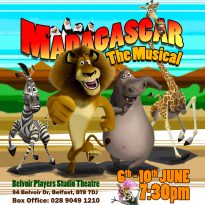 Belvoir Players Junior Academy Presents the NI premiere of Madagascar the Musiacal 'Greetings boy's and girl's, mumsies and dadsies. It is I King Julian. I am so happy to be here in your Beaver Theatre. I just thought it was so lovely that beavers finally had their own place to make the theatre with the lights and the dancing. So I said to Maurice, I said "Maurice, that is the kind of place I want to perform my new hit musical." And so we shall and you're going to love it or else Mort get's it! (winky face).
Performances: 6th - 10th June
A Night in the Spotlight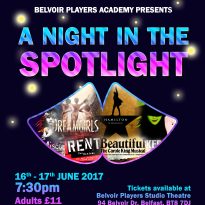 Our Senior Academy returns with its third musical concert bringing you songs from new musicals such as Hamilton, Dream Girls, Beautiful as well as the classics.
Performances: 16th - 17th June
RENT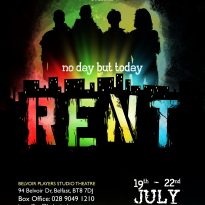 'Rent' tells the story of one year in the life of friends living the Bohemian life in modern day East Village, New York City, 1989-1990. In the year that follows, the group deals with love, loss, AIDS, and modern day life in one truly powerful story.
Performances: 19th - 22nd July
Joseph and the Amazing Technicolor Dreamcoat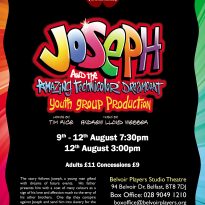 Ravara Productions return to Belvoir Players Studio once more. The story follows Joseph, a young man gifted with dreams of future events. His father presents him with a coat of many colours as a sign of his love and affection much to the envy of his other brothers. One day they conspire against Joseph and send him into slavery for the Egyptian Pharaoh. However, when the Pharaoh, haunted by dreams of his own, hears of Joseph and his gift he immediately employs him to help guide Pharaoh.
Performances: 9th - 12th August
Stop It Nurse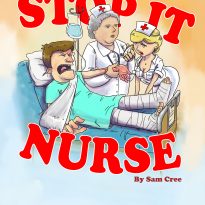 Belvoir Players proudly presents " Stop it Nurse" a hilarious Ulster comedy by Sam Cree. Set in a Belfast hospital during the 60"s the Ward Sister rules the roost! We follow the fortunes and misfortunes of the patients in the male surgical ward. When Sammy, a Linfield supporter is admitted followed by Felix who supports Glentoran we can be sure mayhem follows! Add to the mix a giddy nurse, a domineering wife, a femme fatale and an all-in wrestler then we have all the ingredients for a typical evening of pure Cree manic magic!!!.
Performances: 21st - 23rd September
Avenue Q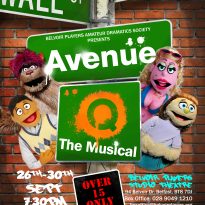 Winner of the TONY "Triple Crown" for Best Musical, Best Score and Best Book, Avenue Q is part flesh, part felt and packed with heart. Avenue Q is a laugh-out- loud musical that tells the story of a recent college graduate named Princeton who moves into a shabby New York apartment all the way out on Avenue Q. There, he meets Kate (the girl next door), Rod (the Republican), Trekkie (the internet sexpert), Lucy The Slut and other colorful types who help Princeton finally discover his true purpose in life! Join us, where the internet is for porn and everyone's a little bit racist, as this smash hit musical comes to Belfast. A MIX OF INCREDIBLE SATIRE AND WIT" Its amazing what you can get away with when you're fuzzy and cute
Performances: 26th - 30th September