You do such wonderful work here, the children are so talented - A Regular Pattron, Dunmurry
Our Day Out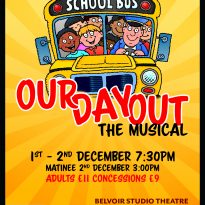 When a teacher plans to take a group of unruly school children on a school trip to Alton towers things don't go smoothly. The deputy head disciplinarian teacher, Mr Briggs, joins them and tells them they are no longer allowed to go and are instead going to Conwy in Wales. Chaos insues as the teachers take the kids to the zoo, the beach and fun fair. Along the journey the children understand life outside of Liverpool and the teachers are just glad to get back in one piece.
Performances: 1st - 2nd December
Christmas through the musicals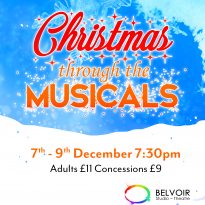 BMDS presents a musical concert featuring some of the best and most memorable chirstmas songs from famous musicals such as 'White Christmas', 'Christmas Carol', 'Elf' and many more!
Performances: 7th - 9th December
Dreaming of Christmas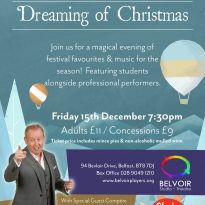 Stormont School of Singing is back with their annual Christmas concert in aid of NI Chest Heart & Stroke Join us for a magical evening of festival favourites & music for the season! Featuring students alongside professional performers. Ticket price includes mince pies & non-alcoholic mulled wine.
Performances: 15th December
Cinderella the Pantomime
Belvoir Players annual season of fun and madness is soon upon us with the tale of Cinderella the girl longing to attend the princes ball and escape the torment of her wicked step mother and sisters.
Performances: 20th Dec - 6th Jan