You do such wonderful work here, the children are so talented - A Regular Pattron, Dunmurry
Listen!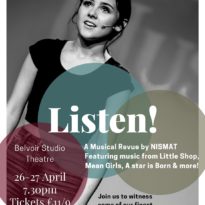 Listen! A musical revue by Nismat Featuring music, singing and dance from Little Shop of Horrors, Mean Girls, A Star is Born and much more...
Performances: 26th - 27th April 2019
My Sweetheart & Me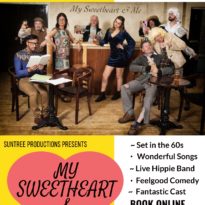 My Sweetheart & Me is a light-hearted, nostalgic musical, telling the parallel stories of three couples who back in 1967 frequent the Suntree Bar in the fictional sleepy town of Cheersyville, Ireland. Volatile Yvonne is fed up with 'happy' Sammy. Ruby and Cyril's matrimony turns out to be built on sandy foundations. Meanwhile their mature student of a son 'Bookworm Bob' has caught the eye of Sheena, who having just turned thirty and still not having found her Mr Right is quite desperate to find love. For further info visit www.mysweetheartandme.com
Performances: 3rd May 2019
Family Fever By Sam Cree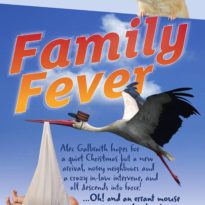 For the Galbraith family, Christmas is quickly approaching and Alec Galbraith is finding the stress that comes with the season is more heightened than usual. The birth of his first grandchild is fast approaching and he has to evacuate a mouse before it arrives; his buddy, Willie, is requiring assistance in the purchase of his wife's Christmas present; and his own wife, Sadie, is putting pressure on him to finish the decorations and have the house sitting perfectly. All this provides for mayhem and hilarious comedy one of Sam Cree's gems.
Performances: 16th - 18th May 2019
The PM Big Band at the Belvoir Studio Theatre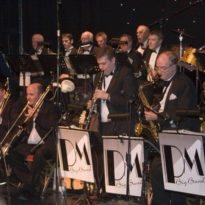 After the rollicking success of the concert last year, we are delighted to welcome back the PM Big Band with their unique blend of American Songbook and some modern classics. Always a fun night, exceptional music, laughs and stories as David Hamilton and Ceara Gallagher take centre stage.
Performances: 25th May 2019
A Small World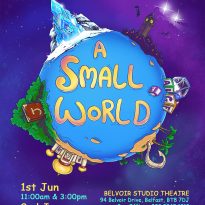 You are welcome into a world of pure imagination, as we take you one jump ahead towards a whole new world. We have all the bare necessities of a great night. So take the second star to the right down to Belvoir Players and who knows how far we'll go. It will be supercalifragilisticexpialidocious.
Performances: 1st-2nd June
Bugsy Malone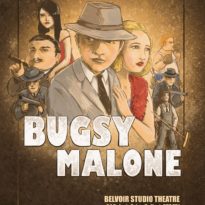 Belvoir Players Academy bring on the fun...Based on the hit 1976 film by Alan Parker; Two gangs square off in a 1920s rivalry of Capone-ian standards. Dandy Dan's gang has gotten the upper hand since obtaining the "splurge" gun. Now, Fat Sam and his bumbling buffoons are in real trouble! Bugsy Malone, a one-time boxer, is thrust not-so-willingly into the gangster limelight when he becomes the last chance that Fat Sam's gang has of surviving. All Bugsy really wants to do is spend time with his new love, Blousey, but that just isn't on the cards for our hero.
Performances: 13th - 15th June 2019