You do such wonderful work here, the children are so talented - A Regular Pattron, Dunmurry
Stop It Nurse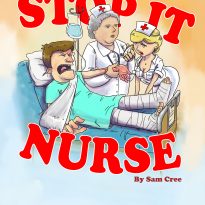 Belvoir Players proudly presents " Stop it Nurse" a hilarious Ulster comedy by Sam Cree. Set in a Belfast hospital during the 60"s the Ward Sister rules the roost! We follow the fortunes and misfortunes of the patients in the male surgical ward. When Sammy, a Linfield supporter is admitted followed by Felix who supports Glentoran we can be sure mayhem follows! Add to the mix a giddy nurse, a domineering wife, a femme fatale and an all-in wrestler then we have all the ingredients for a typical evening of pure Cree manic magic!!!.
Performances: 21st - 23rd September
Avenue Q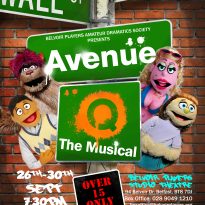 Winner of the TONY "Triple Crown" for Best Musical, Best Score and Best Book, Avenue Q is part flesh, part felt and packed with heart. Avenue Q is a laugh-out- loud musical that tells the story of a recent college graduate named Princeton who moves into a shabby New York apartment all the way out on Avenue Q. There, he meets Kate (the girl next door), Rod (the Republican), Trekkie (the internet sexpert), Lucy The Slut and other colorful types who help Princeton finally discover his true purpose in life! Join us, where the internet is for porn and everyone's a little bit racist, as this smash hit musical comes to Belfast. A MIX OF INCREDIBLE SATIRE AND WIT" Its amazing what you can get away with when you're fuzzy and cute
Performances: 26th - 30th September
Hypnotist Robert Herdman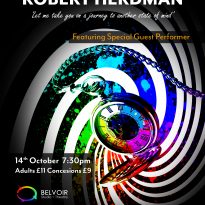 After the massive success of his show last year Robert Herdman returns to bring you a night of hilarious entertainment and mystery. Are you brave enough to step on stage and fall under his hypnotic spell? FEATURING SPECIAL GUEST PERFORMER All proceeds will be donated to charity.
Performances: 14th October
Performances: 26th - 28th October
Rock'N'Roll Years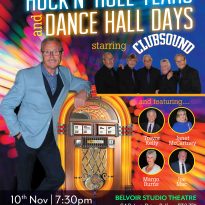 The Rock'N'Roll Years and Dance Hall Days' Show is back with a brand new show featuring George Jones, Clubsound and four wonderful singers. The show will transport you back to the nostalgic days and incredible music and artistes of 50's and 60's. Combining evocative love ballads with the greatest Rock'n'Roll hit songs of the era, this show will carry the audience back to a time when dance halls were full and the youngsters danced, jived and rocked to the Four Seasons, the Shadows, Neil Sedaka, Dean Martin, Patsy Cline, Elvis and much, much more! With over 40 classic songs this is a show not to be missed.
Performances: 10th November
Comedian Neil Dougan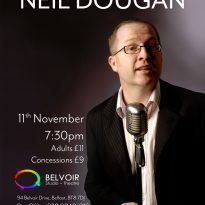 Neil Dougan is one of the strongest established acts on the UK and Irish comedy circuit today. After starting out at The Empire Comedy Club Neil became the regular compére at The Laughterlounge in Belfast. A familiar headline act in comedy clubs throughout the UK and Ireland as well as on the corporate circuit where his mix of incisive political satire and acute comical observations on everyday life is in huge demand. He also performed the warm-ups for The Nolan Show for over 3 years as well as supporting Patrick Kielty, Tommy Tiernan, Brendan O'Carroll and Roy Walker on tour.
Performances: 11th November
Elf the Musical JR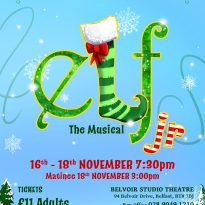 Based on the comedy film starring Will Ferrel. After inadvertently wreaking havoc on the elf community due to his ungainly size, a man raised as an elf at the North Pole is sent to the U.S. in search of his true identity.
Performances: 16th - 18th November
Our Day Out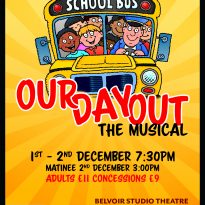 When a teacher plans to take a group of unruly school children on a school trip to Alton towers things don't go smoothly. The deputy head disciplinarian teacher, Mr Briggs, joins them and tells them they are no longer allowed to go and are instead going to Conwy in Wales. Chaos insues as the teachers take the kids to the zoo, the beach and fun fair. Along the journey the children understand life outside of Liverpool and the teachers are just glad to get back in one piece.
Performances: 1st - 2nd December
Christmas through the musicals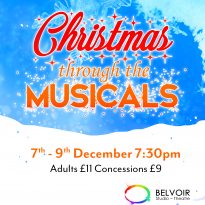 BMDS presents a musical concert featuring some of the best and most memorable chirstmas songs from famous musicals such as 'White Christmas', 'Christmas Carol', 'Elf' and many more!
Performances: 7th - 9th December
Dreaming of Christmas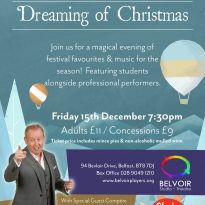 Stormont School of Singing is back with their annual Christmas concert in aid of NI Chest Heart & Stroke Join us for a magical evening of festival favourites & music for the season! Featuring students alongside professional performers. Ticket price includes mince pies & non-alcoholic mulled wine.
Performances: 15th December
Cinderella the Pantomime
Belvoir Players annual season of fun and madness is soon upon us with the tale of Cinderella the girl longing to attend the princes ball and escape the torment of her wicked step mother and sisters.
Performances: 20th Dec - 6th Jan