2009 Academy Shows
Press Release
Belvoir Players Theatre Academy has been in operation for 15 years. Since 2000 we have been operating from the purpose- built Theatre / Arts Centre on Belvoir Drive. Currently we cater for 170 members ranging in ages from 5 year olds to 16 year olds divided into three sections, Juniors; Middlies and Seniors. Each year they celebrate the opening of our Studio on June 10th 2000 by mounting their very own show to demonstrate their abilities and to showcase their activities throughout the year.
Over the past number of years the academy has produced a variety of shows including The Wizard of Oz; Annie; Oliver; My Fair Lady; Bugsy Malone; Joseph & his amazing Techni-coloured Dream Coat & Jesus Christ Superstar. This year we are presenting two productions for your entertainment and to display the great talent of our young members.
On Tuesday & Wednesday 9th & 10th June at 7.30pm plus Saturday 13th June at 10.00am our Juniors and Middlies (ie under 12 year olds) will present a selection of Songs from the Shows combined with a Concert version of Charlie & the Chocolate Factory.
On Thursday, Friday & Saturday 11th 12th & 13th at 7.30pm plus Saturday 13th June at 3 pm, our Senior Section will present their version of The Little Shop Of Horrors by arrangement with Josef Weinberger.
Tickets for these shows are sure to be very popular so early booking is highly recommended. Subscriptions for tickets are £7.00 with a concession rate of £5.00 for Seniors and Students. Reservations can be made by telephoning the studio on 90 491210 or by calling Pat Mills on 90 649835.
For further information please contact the Artistic Director,
Richard Mills MBE on 07808583175.
---
Here is the poster the we used to promote the show.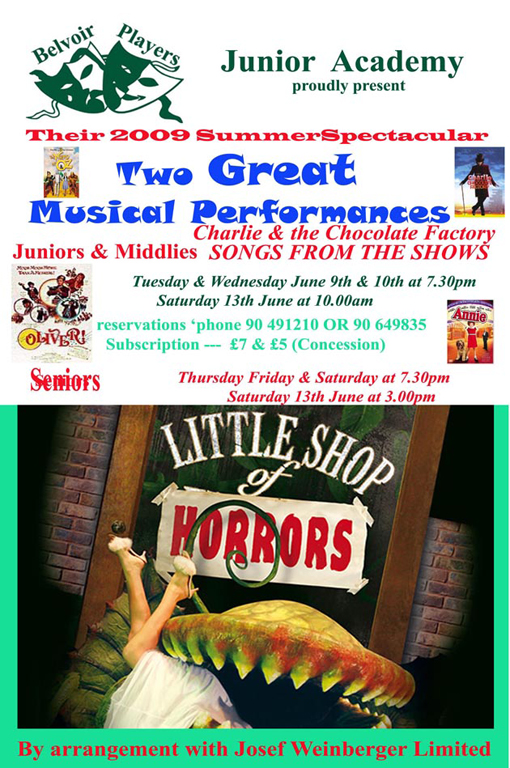 Performance Dates & Times
Further production information to follow.